Round Bale Recordings is a private press record label associated with the Free Form Freakout podcast series (a.k.a. The FFFoxy Podcast) that focuses on small edition releases across various physical formats.
Contact: roundbalerecs@gmail.com
RBR-005: Russell Hoke "A Voice From the Lonesome Playground: An Anthology" 2xCS+lyrics booklet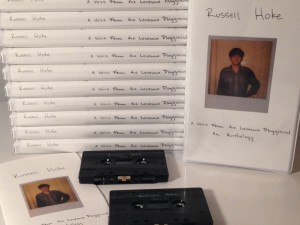 It was in the summer of 2011 that I first stumbled across a small stash of Russell Hoke albums while combing through the tastefully stocked bins of Chicago's Dusty Groove Records, which I later learned was one of the very few places in the world to actually carry these. Tucked in their small "Folk & Country" section sat these intriguing looking hand-assembled, hand-scrawled record jackets with titles like Haunted Brain and If I Had Been the Universe that looked positively out of place amongst the more recognizable selections within that traditional-mind- ed genre. With no knowledge of what any of these would sound like, but lured by the cheap sticker price and curious song titles, I ended up purchasing a copy of Hoke's He Would Have Been A Fine Young Man.
When I arrived back home and put the needle to the record for the first time, I was downright mesmerized by what I heard. The album was a haunting work of psych- tinged, outsider folk that sounded like a lost late-sixties/early-seventies artifact, adding a bit of mystery and confusion to the 2011 copyright date on the jacket. This, of course, immediately sent me on the hunt for any and all of the other Hoke recordings I could get my hands on and to seek out any further information I could about this elusive artist. There was, however, scant information to be found online about Hoke at the time (and to this day, in fact), with the exception of maybe a couple of mentions of his 2009 released double album, The Magic of My Youth. Fortunately, based on a slight hunch and a blind email inquiry, I was put in touch with Hoke directly, a connection that has provided me with years' worth of enduring songs, poetry, and camaraderie, and which brings us to the present day and this collection in hand.
The bulk of the recordings featured on this anthology date back to the 1980's and have been circulated amongst Hoke's friends and supporters in various minuscule editions and under various titles for decades, from the "pizza box" cassette edition of Splashing Onto You, My Children in the late 80's up through the more recent spat of limited vinyl editions on Hoke's private label, Unheard-of Records. This anthology draws from the entirety of his archives and these later private press editions, including three previously unreleased tracks, to circulate a collection anew for the next generation of listeners and future fans of this under-appreciated, Texas-based songwriter and poet. With 38 songs spread out over two cassettes and a 16-page booklet of lyrics, A Voice From the Lonesome Playground presents a broad overview of Hoke's work, providing what I consider more than ample evidence of his much-deserved place in that great conversation of notable left-of-center songwriters and wordsmiths, from Dylan to Johnston to Hazlewood to Hurley. Get in on the action, friends: the Cosmic Outlaw is back!
David Perron, November 2016
RBR-004: Final Seed "S/T" tape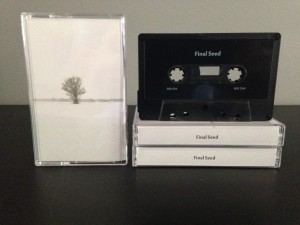 With previous cassettes out on Alien Passengers and Fag Tapes, along with a recent split with Dylan Nyoukis (Chocolate Monk, Blood Stereo, etc.), Jameson Sweiger's Final Seed project has been ramping-up activity in the past couple of years. His latest finds him pushing the levels of discomfort to new extremes with his zoned-out, minimal synth pulsations and ukulele plunks forming an aural gridlock for his broken tongue, epiglottal vocal utterances to break free from. Sweiger's work bears linkages to Phil Minton's feral oeuvre, yet it is firmly planted in the contemporary sound art here-and-now with his own crudely D.I.Y. minimalist approach.
RBR-003: Termite Acropolis "Dedication in Vinegar" tape

"Dedication in Vinegar" is the first solo release from Clay Kolbinger under the name Termite Acropolis. For tape-based music, there is a remarkable sense of clarity and depth to the five pieces spread across this release. Through a myriad of clanks and clatters, hidden and not-so-hidden rhythmic patterns emerge and morph, shifting one's focal point towards something buried even further in the mix only to find you chasing down that initial misidentified loop. In places it sounds like a punk-primitive take on the seething audio confusion that Rashad Becker concocted with his Traditional Music Of Notional Species Vol. I. But, hell, that's just reaching for an elusive reference point that slips away the moment you think you have a firm grasp on this material.
RBR-002: Troy Schafer "Untitled No. 4" lathe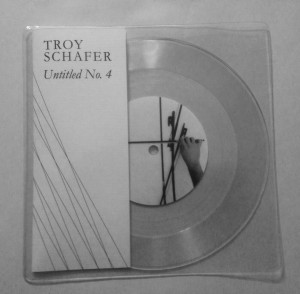 Wisconsin-based composer and improviser, Troy Schafer, has scattered a staggering body of impressive work throughout the darkened pastures of the Midwest over the past decade with his contributions to various group efforts such as Kinit Her, Wreathes, Burial Hex, and Rain Drinkers to name but a few. On top of this stellar output, Schafer's 2012 solo release on the Recital label entitled Evening Song Awaken provided further confirmation of his considerable talents as a violinist and as a composer of soul-stirring sounds. The past few years, upon completion of a Master's Degree in Sound at The School of the Art Institute of Chicago, has seen Schafer's music continue to evolve along more conceptual and theoretical lines, pushing into areas of Musique concrète and performance art, while maintaining a distinctive emotional heft common amongst all of his work. Schafer's ongoing Untitled series, started early last year, has proven to be the apex of this newfound path as a solo artist, with each installment unlocking a new and varied piece to the beguiling sonic puzzle that he is creating. With that, we couldn't be more thrilled to offer up Untitled No. 4, the latest solo brain-scrambler from Troy Schafer. Here on one side you'll find him presenting refined yet dissonant piano lines competing with jarring static disruptions, and on the flip side a lurching industrial swarm bowed out of custom-built electronics and extended techniques. It's another peerless example of modern avant composition forged with blood upon the hands and sweat upon the brow.