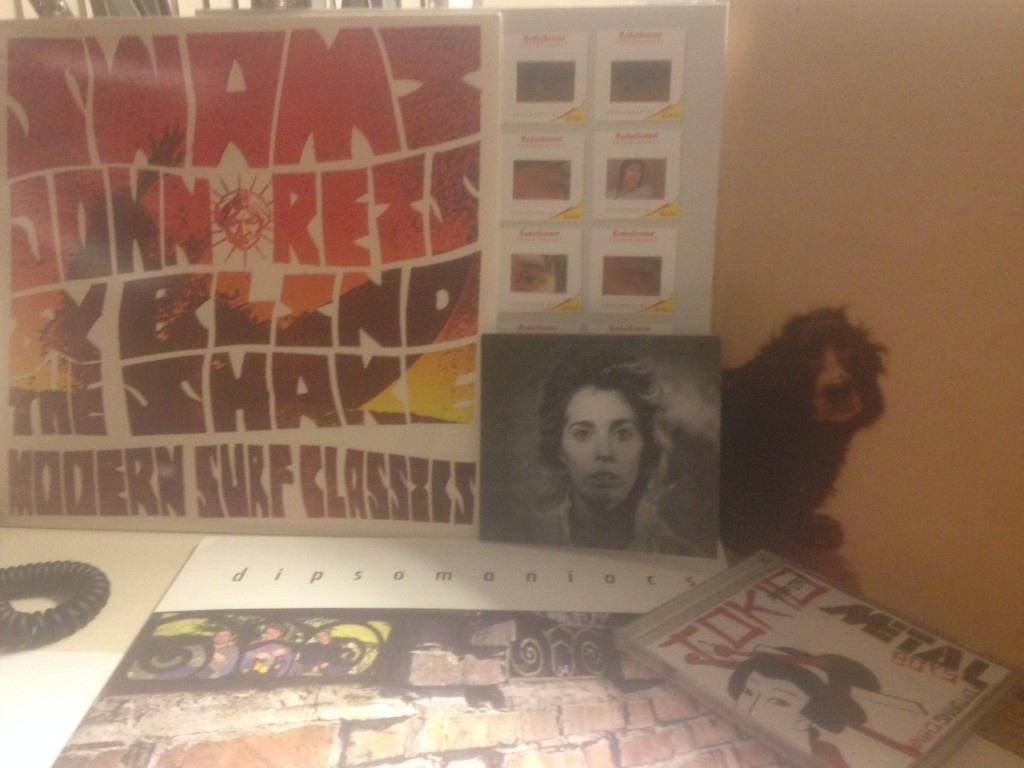 Where does the time go? Another two months has passed and I'm now finally getting around to posting the weekly playlists. As I'm sure many of you can relate, that span of time as been a total blur of making the holiday rounds and all that goes with it. As for the weekly show, we've went through various special programming days on KMSU that resulted in an almost-hour of Neil Young one week to us taking the next week off completely. Carl also put together his annual holiday show that ended up being re-aired on New Year's Eve due to a slight scheduling hiccup. But, it's a new year and we're slowly getting back into our usual weekly non-routine of surprising (i.e. challenging) each other on-air with music we appreciate, from oddball obscurities to guilty pop pleasures and to all points in between. Within the next month, we'll be marking our 10th year of doing the weekly Free Form Freakout show on KMSU, so we'll likely try to come up with some type of special show or something else to mark the occasion. Until then, thanks for checking in with us. Feel free to get in touch if you have any questions or comments.
FFFreakout #494 (Aired on 1/7/16):
Motorhead "Ace of Spades" from Ace of Spades
The Ephemeral Man "Sometimes" from From A to U compilation
Dream Police "My Mama's Dead" from Hypnotized
Lower Plenty "On the Beach" from Life/Thrills
Tommy Jay "Dreamland" from Tall Tales of Trauma
Paul Bley Quintet "Around Again" from Barrage
A Tribe Called Quest "Jazz (We've Got)" from The Low End Theory
Arca "Anger" from S/T
Alabama Shakes "Sound & Color" from Sound & Color
David Bowie "Black Star" from Black Star
Tame Impala "Let It Happen" from Currents
Sleater-Kinney "Fangless" from No Cities To Love
FFFreakout #493 (Aired on 12/24/15 & 12/31/15):
Wizzard "I Wish It Could Be Christmas Every Day"
Phoenix (and Bill Murray) "Alone On Christmas Day"
The Ramones "Merry Christmas (I Don't Wanna Fight Tonight)"
Pee-Wee Herman "Merry Christmas greeting"
Lou Rawls "Christmas Is"
Miles Davis "Blue X-mas"
The Ronettes "Sleigh Ride"
The Singing Dogs "Jingle Bells"
Yoko Ono & The Flaming Lips "Happy Xmas (War Is Over)"
Paul McCartney "A Wonderful Christmas Time"
"We're A Couple of Misfits" from Rudolph the Red-Nosed Reindeer soundtrack
The Waitresses "Christmas Wrapping"
John Fahey "Joy to the World"
The Border Brass "Deck the Halls"
Herb Alpert & The Tijuana Brass "Jingle Bell Rock"
Los Straitjackets & Nick Lowe " Linus & Lou"
Boots Randolph "Medley"
The Kinks "Father Christmas"
FFFreakout #492 (Aired on 12/17/15):
Graeme Jefferies "If The Moon Dies" from Messages for the Cakekitchen
The Lloyd Pack "Tribute to Paul Hardcastle" from A Tribute
Brian Eno "The Great Pretender" from Taking Tiger Mountain (By Strategy)
Suicide "Radiation" from The Second Album
Godflesh "Baby Blue Eyes" from Pure
Wolf Eyes "Enemy Ladder" from I Am A Problem: Mind in Pieces
Odd Hope "Brave and Olde" b/w "I'll Follow You Soon"
Public Enemy "Can't Truss It" from Apocalypse 91…The Enemy Strikes Back
PJ Harvey "C'Mon Billy" from To Bring You My Love
Robert Palmer "Looking For Clues" from Clues
Elastica "Stutter" from S/T
Meat Puppets "Plateau" from II
Ray Charles "Hard Times (No One Knows Better Than I)" from The Best Of Ray Charles
Portishead "Roads" from Tank Girl O.S.T.
FFFreakout #491 (Aired on 12/10/15):
The Electronic Hole "The Golden Hill" (excerpt) from S/T
Odd Hope "I'll Follow You Soon" b/w "Brave and Olde 7"
The Skygreen Leopards "Mother the Sun Makes Me Cry" from Life & Love in Sparrow's Meadow
Vincent Over the Sink "Threads of Beginning" from 22 Coloured Bull-Terriers
U.S. Girls "Window Shades" from Half Free
Ian William Craig "Each All In Another All" from Cradle For The Wanting
Bjork "Quicksand" from Vulnicura
Robert Pollard "Drinker's Peace" from Six Pack To Go
Deer Tick "If I Should Fall From Grace With God" from Six Pack To Go
The Blue Jean Committee "Catalina Breeze" from Catalina Breeze
King Missile "Still the One" from 20 More Explosive Fantastic…
Stereolab "Miss Modular" from Dots & Loops
Prince & The Revolution "Take Me With U" from Purple Rain
Leon Bridges "Smooth Sailin'" from Coming Home
Buzzcocks "Love You More" from Singles Going Steady
FFFreakout #490 (Aired on 12/3/15):
Swami John Reis and The Blind Shake "Zulu As Kono" from Modern Surf Classics
Dipsomaniacs "Not Cute" from Reverb No Hollowness
John Cale "King Henry" from The Academy in Peril
Pumice "Mothers in Mantis" from Puddles
Badaboum "La Vouivre" from S/T
Metal Boys "New Malden" from Tokyo Airport
U.S. Girls "Red Comes In Many Shades" from Half Free
Otis Redding "Pain In My Heart" from Pain In My Heart
Jeff Lynne's ELO "When I Was A Boy" from Alone In The Universe
Lou Reed "Satellite of Love" from Transformer
Eagles of Death Metal "Save A Prayer" from Zipper Down
Benjamin Clementine "Cornerstone" from At Least For Now
Earth, Wind & Fire "After the Love Has Gone" from Easy Rock
Daryl Hall "Sacred Songs" from Sacred Songs
FFFreakout #489: RSD Black Friday preview (Aired on 11/26/15):
U.S. Girls "Damn That Valley" from Half Free
The Beat of the Earth "Side A" from This Record Is An Artistic Statement
Les Paul/Mary Ford "Santa Claus Is Comin' To Town" from Christmas Cheer!
Elvis Presley "If I Can Dream" 7″
The Alan Parsons Project "Snake Eyes" 7″
Neal Hefti and His Orchestra & Chorus "Batman Theme" 7″
Shooter Jennings & Lukas Nelson "Oh Sweet Nuthin" 7″
Jeff Buckley "Everyday People" 7″
The Kinks "Wait Till The Summer Come Along" 7″
FFFreakout #488: Neil Young Day Sponsorship on KMSU (Aired on 11/12/15):
Loop "Cinnamon Girl" from The World In Your Eyes
Neil Young "Come On Baby Let's Go Downtown" from Tonight's The Night
Sun City Girls "Nights of Malta" from Gum Arabic
Alvarius B. "Great White" from S/T
Sir Richard Bishop "Matadora" from The Unrock Tapes
Neil Young "Track 6" from Dead Man O.S.T.
Neil Young "Don't Let It Bring You Down" from After the Goldrush
Jackson C. Frank "Marlene" from The Complete Recordings
Neil Young and Bluenote Cafe "This Note's For You" from Bluenote Cafe
Neil Young and Bluenote Cafe "Tonight's the Night" from Bluenote Cafe
Neil Young "Track 3" from Dead Man O.S.T.