Starting on Wednesday, April 23rd, KMSU – the college/community radio station where Free Form Freakout is based out of – will be embarking on its most ambitious pledge drive fundraiser in the station's long history with the goal of raising $40,000. The rationale for this amount is plain and simple: we desperately need to replace the unreliable, and increasingly costly, 35-year-old transmitter that currently sends our weak-ass signal out into southern Minnesota and northern Iowa. New transmitters aren't exactly cheap either, no less than $50,000 by our last count, so this pledge drive amount will still only be putting a dent into that total considering the other operational costs involved in keeping the station afloat throughout the year.
As with past pledge drives, we thought we would come up with some exclusive premiums that might appeal to at least some of our listeners out there. Thanks to the support and generosity of several record labels and individual artists, many being featured on our regular Thursday show and/or podcast series over the years, we are able to offer up a variety of LP, CD, and tape bundle options at different pledge amount levels during our show. Each of these options is spelled out in detail below, with information and other links provided for further reading and listening. Check 'em out, as these are good people doing good work.
Free Form Freakout will be on the air at our usual time on Thursday, April 24th at 2:00 p.m. (C.S.T.), and then again on May 1st, ready to take your pledges. If you value the type of diverse programming that KMSU offers and appreciate the range of music that Free Form Freakout is presenting, then we really would love to hear from you. You can give us a call at (507) 389-5678 or 1-800-456-7810 during our show to get in on these exclusive premiums; however, you can also donate online at any time and in any amount over on the KMSU website. Any amount you can swing is greatly appreciated; it all goes to keeping us on the air.
$100: Kye Records bundle

Once again, Graham Lambkin has stepped up and offered to help our little station out. Last fall, he so generously contributed the cover artwork to our FFFour KMSU release (pictured below), and this year he has donated a grip of stellar releases from his well-regarded Kye label as premiums. Kye has been a continuous source of fascination and inspiration for us, so we're thrilled that someone else out there can take the full plunge into the Kye catalog with these newer releases that includes: Astor "Inland" LP, Jason Lescalleet "Much To My Demise" LP, Stefan Jaworzyn "The Annihilating Light" LP, Good Area "Cubic Zirconia" b/w "Bad Karlshafen" 7″, *Graham Lambkin/Jason Lescalleet "The Food Chain" b/w "Nice Ass" 7″ (*Glistening Examples release). Please note: there is only one of these bundles available.
$100: Fabrica Records bundle

Like Kye, Fabrica Records is another label that we keep close tabs on. Last year, they put out two albums that made it onto our year end FFFavorites lists: Rambutan's "Inverted Summer" LP and Robert Turman's "Beyond Painting" 2LP. And in 2012, their Insect Factory "Melodies From a Dead Radio" LP also made it onto our year end list. We're happy to say that all three of those LPs are included in this amazing Fabrica bundle that is fleshed out with these other fine releases: Unicorn "Playing With Light" LP, Public Speaking "Blaton Ravine" LP, and Luciernaga "Collected Works: 2008-2013" CD. Please note: there is only one of these bundles available.
$75: Desire Path Recordings bundle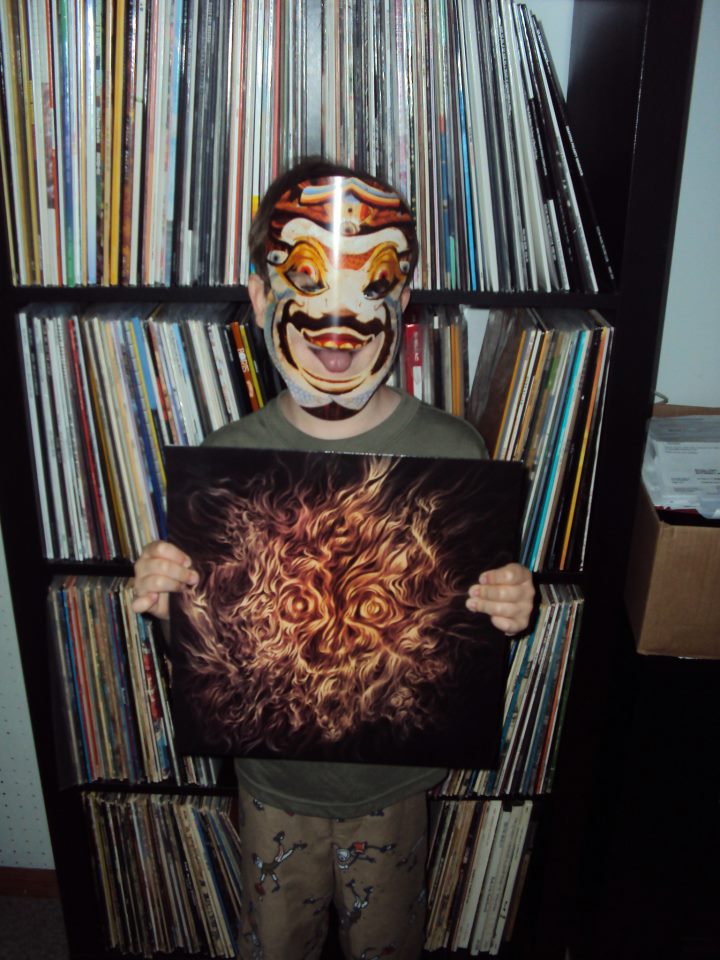 Desire Path Recordings has put out some of the most gorgeous, deep listening albums we've come across in the past few years. Every record they put out is well-considered and comes across as a major artistic statement. We are so pleased that they have provided us with four of these major works from their catalog to offer as premiums at the $75 level. The bundle includes: Federico Durand's "La idioma de las luciernagas" LP, Solo Andata's "Ritual" LP, Nicholas Szczepanik's "Not Knowing" CD, and Charlemagne Palestine & Janek Schaefer's "Day of the Demons". This final release (pictured above with FFFreakout, Jr.) comes on flame red vinyl and with a demon mask included and is long out-of-print.
$75: Weird Forest Records bundles (3 LPs + 2 tapes each)

Weird Forest Records has one of the more genre-defying back catalogs around. If you're a fan of free jazz, lo-fi folk, avant rap, psych rock, noise, ambient, drone music and more, then Weird Forest surely has something that will appeal to your ears. Here's a chance to pick out 3 LPs and 2 tapes (while supplies last) to fit your listening wants and needs. Your choices include the following LPs: Mats Gustafsson & Paal Nilssen-Love "I Love It When  You Snore", Love Cry Want "S/T", Lil B "Rain In England", Winter Drones "Blood In The Coffin", Terrors "Lagan Qord", Expressway Yo-Yo Dieting "Bubblethug", Noveller "Desert Fires", Yellow Swans "Psychic Secession", Yellow Swans "At All Ends". You will also be able to select from tapes from these artists: Roped Off, Matt Kretzmann, Colour Bük, Haptic Music, Roped Off/Garrincha split, Mucky the Ducky/Ava Mendoza with Nick Tamburro split.
$50: Russell Hoke LP bundle (4 LPs)

 We are thrilled to once again be offering up some LPs from Russell Hoke, the terrific, yet little-known, San Antonio-based poet and songwriter who we did a feature show on a few years back. You can read more about Hoke's music and listen to that feature HERE. For a $60 or more pledge, you will be able to get your hands on four of his self-released LPs (pictured above), all of which are pressed in limited, hand-assembled editions that can be quite difficult to track down.
$50: Crash Symbols cassette 6-pack

Crash Symbols is the well-curated tape label run by Dwight and Liz Pavlovic, who also are co-editors over at Decoder Magazine. Based out of Morgantown, West Virginia, which just so happens to be where Grandma FFFreakout was born and raised, Crash Symbols focuses on "forward-thinking works of all kinds from all areas." Dive into their catalog and you'll hear oddball electronic music, off-the-grid hip-hop, psych pop, contempo Kosmische and all points in between. Pledge $50 or more, and this six-pack will get you started on your journey. The tapes included are by: Gay Cat Park, Julie's Haircut, Bary Center, Carey, Yom San, BK Beats & Black Noi$e.
$25: Earthen Sea/Insect Factory LPs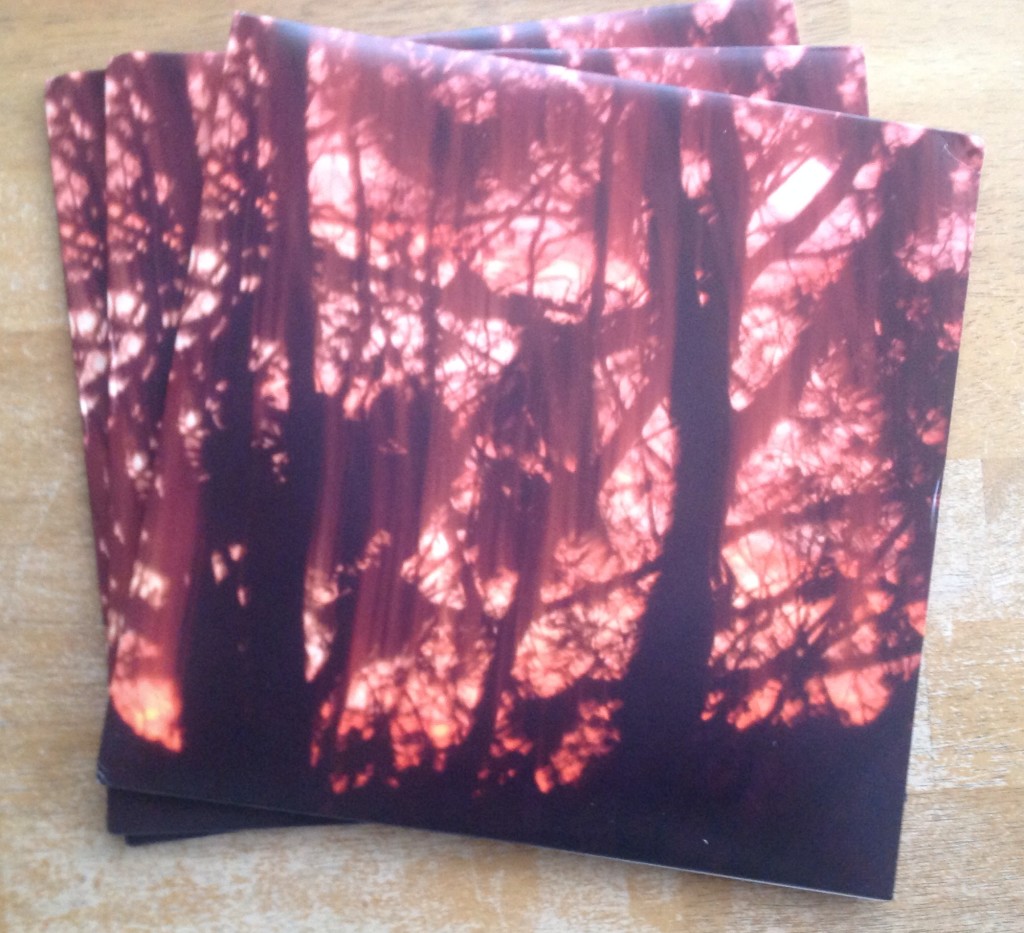 As referenced above, we were mesmerized by Insect Factory's "Melodies From a Dead Radio" album. What we have here is the follow-up to that release, a beautiful split with fellow Washington D.C.-area droner, Earthen Sea. Jeff Barsky (a.k.a. Mr. Insect Factory) provided us with a nice stack of these albums to give away as premiums to help us ensure that the only melodies of a dead radio you'll hear are from his album and not something emanating from KMSU's aging transmitter.
$25: Fabrica and Centsless Productions CDs

We have some individual CDs to give away to people who pledge at the $25 level. The Luciernaga and Public Speaking discs are some extras from that Fabrica bundle. We also have a couple copies of the latest from the Ohio folker, Grow Horns, which comes out on Centsless Productions, a label that has been unbelievably supportive of FFF over the years.
FFFour KMSU print + digital compilation
We have a small stash of the FFFour KMSU Graham Lambkin art prints that come with the 20-track digital download card leftover from the last pledge drive. We will give one of these to everyone who pledges at any amount during our show (while supplies last, of course). You can give this a look and listen on our Bandcamp page.