2016 was certainly a year of significant transitions, not only on the obvious global/political level, but on a rather personal level, too. On top of that, it seemed like every other month we were handed another significant loss or tragedy to cope with. In short, the year was a grab bag of mixed emotions, mostly weighted down on the bummer side of the scale. In light of all of this, music became an even more important source of centering in these uncertain and turbulent times. The simple act of listening to music felt revitalizing; connecting with open-minded people over shared musical interests felt like a simple yet much-needed human gesture. For me, more than almost anything else, music made this year bearable and also quite memorable.
One of the positive aspects of maintaining this website and keeping track of all of the shows produced under the Free Form Freakout banner is that I essentially have a yearly log, a journal perhaps, of most of the albums that I was listening to obsessively throughout the year. Perusing both the podcast and weekly show playlists, I can piece together a few major patterns that took shape in my own listening habits as the year unfolded. First, I listened to more guitar-based, rock music than I've done in recent memory. The year started off with the riff-heavy, double album behemoth that was Ramleh's Circular Time, which was a holdover from the ass-end of 2015, and continued through the summer months, being spurred on by fantastic live performances I caught from David Nance and The Blind Shake. I'd wager good money that it was Heron Oblivion's debut album that I listened to more than any of the others, though. This was probably the most commonly agreed upon album amongst the small circle of online and IRL heads that I turn to, and for good reason I'd say. Second, the emergence of more text and voice elements within otherwise abstract sound work was an ongoing source of fascination. This also started with a late 2015 holdover, the Intersystems box set on Alga Marghen, and continued through every month and every format, from various tape releases on the always stellar Vitrine label to the sensuous whispers of the Etant Donnes reissue(s) to Sean McCann and Graham Lambkin's intricate, Community-minded efforts. If you've followed this show for any period of time, you'll know that Lambkin's work is a continuous source of inspiration, and his latest full-length did not disappoint in the slightest. In fact, if you'd force me to whittle this down to thee ONE, then Community would be IT. Third, I still have an unashamed predilection for what could loosely be described as atmospheric, post punk-indebted music, and full-lengths from Heimat, Theoreme, and The Pheromoans, along with countless German Army tapes, all delivered the goods. I'd argue that it was Neutral, though, that created the most beguiling album that was within spitting distance of this type of sound, but they also straddle the line with those previously mentioned areas, too, making them all the more interesting.
There were a few other observations and recollections that I took away from scrolling through the playlists. One was that I enjoyed several øjeRum releases from this year and from previous ones, too, actually. In my humble opinion, this Danish sound and visual artist is making some of the most interesting work in the whole international cassette underground right now. Someone out there needs to put together a tidy overview of his cassette output for the uninitiated. Another was that Penultimate Press was perhaps the most consistently rewarding label throughout the year. Virtually all of their releases were essential, and their Jacques Brodier archival project that came out at the end of the year is truly something to behold. No Rent, Power Moves Library, Thalamos, and the aforementioned Vitrine, kept things exciting on the tape front, along with countless other labels that I could list endlessly. Some of the most innovative music being created right is coming out on this feisty little format. Lastly, one of my fondest memories of the year was driving home late at night on multiple occasions with my daughter in the car blasting to a burned promo copy of Gate's Saturday Night Fever, easily one of my favorite of favorites of the year. She's off to new adventures now, but we agreed that some day we would attempt to make music in the spirit of that Gate album. Until then, here's to music and to hope. . .
. . . and to what is listed below. Since last year I was unable to deliver on writing short blurbs for all of the albums in my year-end feature due to time constraints, I chose to just present all of my favorite albums, tapes, and reissues together in basic alphabetical lists this time around. There are 25 albums, 25 tapes, and 10 reissue/archival releases included. Even with that many titles, I know that it's still incomplete. As I write this, in fact, there are phenomenal albums en route from Rashad Becker, Eli Keszler, and Porest that I know I'll be spending quality time with. But for now, these were the albums that I was playing on the radio and podcast shows, that I was toting along with me to work the weekly summer record store shifts, that I was was spinning at the occasional DJ outings about town, and that I was chatting up with fellow music heads. As I alluded to above, there are a handful of things that I realize officially came out at the end of the previous year, but they didn't arrive in my mailbox until the current year and, frankly, who really cares. There are also a couple of albums that could be considered reissues and vice versa, but, let's be honest: there is more important fact checking work to be done than on fringe music lists. Finally, I should note that these selections reflect my own personal tastes; Carl will be offering up some of his favorite albums in upcoming episodes of the weekly show. I encourage you to click on the links to find out more information and to check out sound samples for most of these titles. If you find something you like, make an effort to purchase a tape, an album, or even a download to help support these artists and labels that are doing the good work. As always, thanks for checking in and for listening. Onward to 2017. Godspeed!!
David P.
N. Mankato, Dec. 2016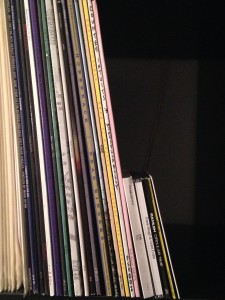 Albums:


Frank Baugh & Grant Evans – We Know Nothing. Nor Is There Anything To Know (Adversary)
The Bibs – From the Fish Houses (Soft Abuse)
Counter Intuits – Monosyllabilly (Pyramid Scheme)
Foodman – Ez Minzoku (Orange Milk)
Gate – Saturday Night Fever (Mie)
Heimat –S/T (Kill Shaman)
Heron Oblivion – S/T (Sub Pop)
Horseback – Dead Ringers (Relapse)
Ignatz – The Drain (Feeding Tube)
Insect Factory – Work (Insect Fields)
Korea Undok Group – S/T (Penultimate Press)
Graham Lambkin – Community (Kye/Erstwhile)
The Lavender Flu – Heavy Air (Meds/Holy Mountain)
Cate LeBon – Crab Day (Drag City)
Klara Lewis – Too (Editions Mego)
Sean McCann – Music for Public Ensemble (Recital)
Meyers – Negative Space (1981-2014) (Sympathy Limited)
Roy Montgomery – RMHQ (Grapefruit)
David Nance – More Than Enough (Ba Da Bing)
Neutral – S/T (Omlott)
The Pheromoans – I'm On Nights (Alter)
Ramleh – Circular Time (Crucial Blast)
The Savage Young Taterbug – Shadow of Marlboro Man (Night People)
Theoreme – L'appel du Midi à midi pile (Bruit Direct Disques)
Mark Wynn – Singles, But They're Not Really Singles… (Harbinger Sound)

Tapes:


Sandra Boss – Terræn (Thalamos)
Stefan Christensen – Isreal (Its More of the Same) (Night People)
CVN – Matters (Orange Milk)
East of the Valley Blues – S/T (Death Is Not The End)
Dino Felipe – Projekt! (Other Electricities)
German Army – Diego Garcia (Wounded Knife)
Glass Bricks – Polyurethane Brain (Greedy Ventilator)
Homogenized Terrestrials – e tistula no. 2 (Aubjects)
I Know I'm An Alien – S/T (self-released)
Ben Lawless – Other Motions (OSR Tapes)
Antony Milton – The North (Lathelight Ltd.)
Christian Mirande – Foxbat (No Rent)
No Intention – Representative Works (Spam)
Dylan Nyoukis/Final Seed – split (Tutore Burlato)
øjeRum – Variationer I Mørke (Hornbuckle)
øjeRum – Syrenen Lukker Lysets Øjne Med Hele Sin Vaegt (Vaald)
Vanessa Rossetto – Adult Contemporary (No Rent)
Snake Whiskey – S/T (Small Scale Music)
Sparkling Wide Pressure – Night Sky Body (Cabin Floor Esoterica)
Jim Strong – The Sallow Rakes (Vitrine)
Talugung – Folded Spring (Power Moves Library)
Tamagawa Onkyou – Drift Wood (Senri)
Urthsla – Wannsee (Field Hymns)
Tom White – Automated Evangelism (Vitrine)
V/A – Black Spring (Korea Undok Group)

Reissues/Archival Releases:


John Bender – I Don't Remember Now/I Don't Wanna Talk About It (Superior Viaduct)
Jacques Brodier – Xhos De Villemahu (Penultimate Press)
Builders – Beatin Hearts (Grapefruit)
Fraser & Debolt – This Song was Borne (Roaratorio)
Etant Donnes – Royaume/Aimant+Aimant (Penultimate Press)
Maxine Funke – Lace (Time-Lag)
Intersystems – S/T (Alga Marghen)
Syrinx – Tumblers from the Vault (1970-1972) (RVNG Intl.)
Giancarlo Toniutti – La Mutazione (Black Truffle)
Woo – Awaawaa (Palto Flats/New General Catalogue)