Starting on Wednesday, October 29th, KMSU – the college/community radio station where Free Form Freakout is based out of – will be starting their annual Fall Listener Pledge Drive with the goal of raising $25,000. As with our previous pledge drive in the spring, the station is setting this goal in an effort to not only cover the usual operational costs, but also to replace an aging and otherwise inefficient transmitter.
As with past pledge drives, we thought we would put together a few exclusive premiums that might appeal to our listeners out there. This time around, we have a few things from artists that are near and dear to us. All of these artists have been featured extensively on either our weekly show and/or our podcast show for several years now, so we couldn't be more thrilled to be able to offer these as incentives during our time slot. Each of these options are spelled out in detail below, with information and other links provided for further reading and listening. Please note that we will also be tossing in other various bonus LPs, CDs, and tapes for anyone who pledges at any amount during our show, too.
Free Form Freakout will be on the air at our usual time on Thursday, October 30th at 2:00 p.m. (C.S.T.), and then again on November 6th, ready to take your pledges. If you value the type of diverse programming that KMSU offers, and appreciate the freedom it grants us on Free Form Freakout to present a wide range of music that often goes completely unnoticed, then we really would love to hear from you. You can give us a call at (507) 389-5678 or 1-800-456-7810 during our show to get in on these exclusive premiums. You can also donate online at any time and in any amount over on the KMSU website (*Note: please make sure to designate KMSU in the drop down options). Any amount you can swing is greatly appreciated. It all goes to helping us stay on the air and continue to offer you unique programming that you can't hear elsewhere.
$50: The Line Drawings Project, Studies 7″ set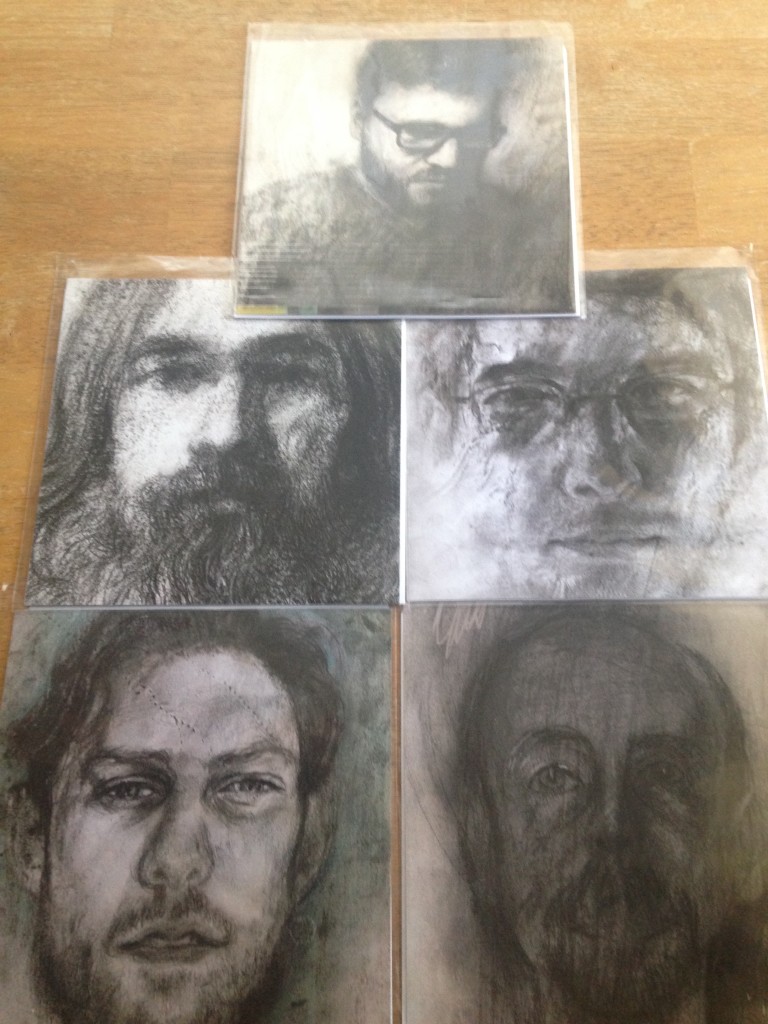 The Line Drawings project, also referred to as A Line in the Sand, is easily one of our favorite collections of music released this year. We did an in-depth feature on this ambitious project on the podcast show earlier this summer where we spoke with core musicians Joe Houpert, Nathan McLaughlin, Cody Yantis, and Josh Mason, along with the visual artist Chris Koelle. You can find out more information about this project by visiting our previous post or by heading over to the FET Press or Desire Path Recordings websites; otherwise, take a listen to the feature podcast itself that's posted below. At the $50 or more pledge level, you'll get the complete Studies split 7″ set.
$50: Russell Hoke, LP bundle (4 LPs)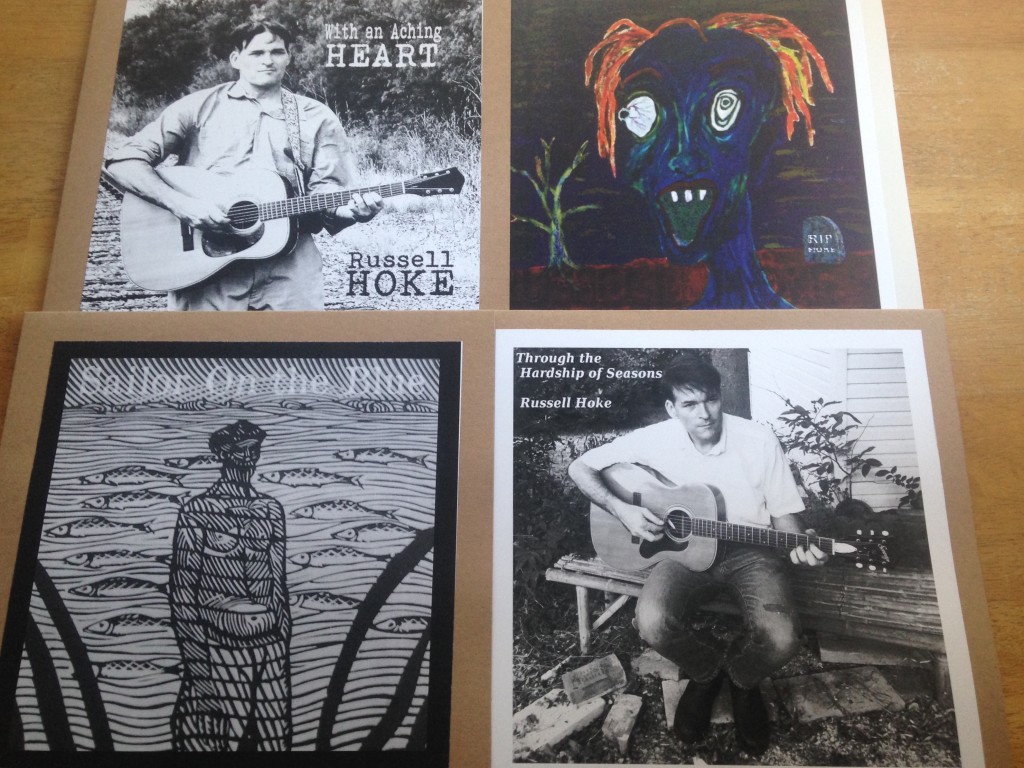 We are thrilled to once again be offering up some LPs from Russell Hoke, the terrific, yet little-known, San Antonio-based poet and songwriter who we did a feature show on a few years back (which is posted below for you to check out). You can read more about Hoke's music over on the old FFF blog, too. For a $50 or more pledge, you will be able to get your hands on four of his self-released LPs (pictured above), all of which are pressed in ultra-limited, hand-assembled editions that can be quite difficult to track down.
$25: Moniek Darge & Graham Lambkin, Indian Soundies CD

We've already made it quite clear how important Graham Lambkin and his Kye Records label has been to our podcast show in a recent post for the feature that Nick Hamilton put together, so we'll simply say that we couldn't be happier to have this new collaborative release with Moniek Darge & Graham Lambkin available for those that pledge at the $25 level or more. After you've checked out that excellent feature that Nick produced, you might want to listen to this older podcast show that we put together around the time of the Shadow Ring's Remains Unchanged archival release:
$25: Loud & Sad, Unknown Species LP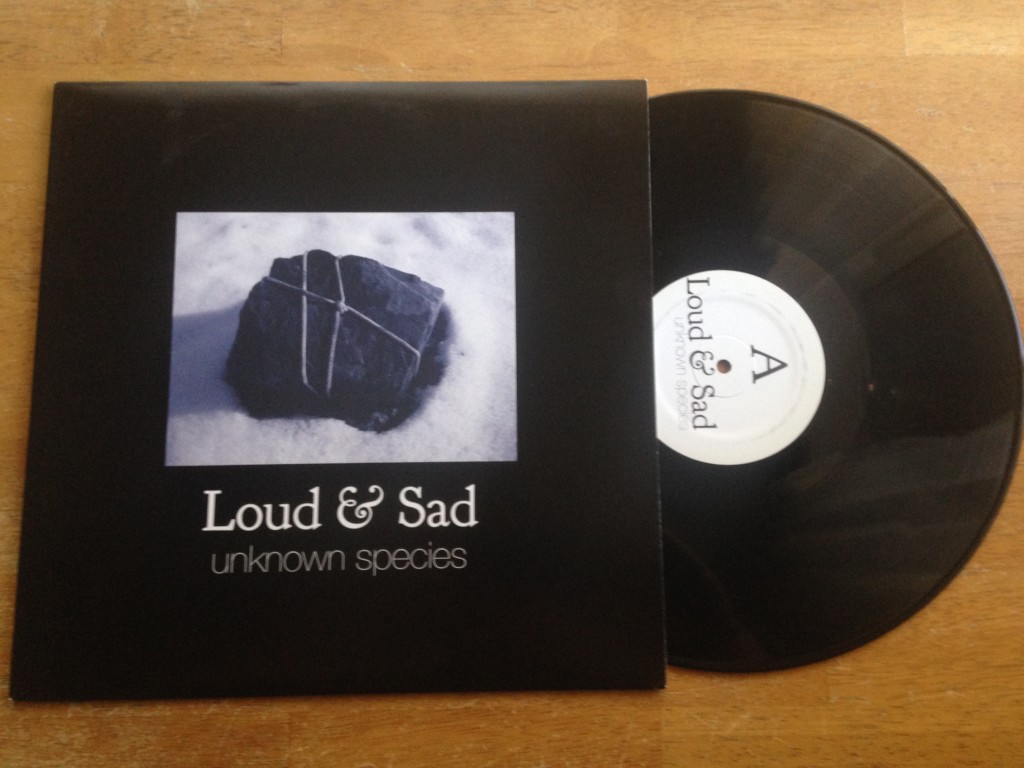 If the Line Drawings Studies 7″ set sounds enticing but you can't quite swing that amount, then this Loud & Sad option might be just right for you. Loud & Sad is the duo of Joe Houpert & Nathan McLaughlin, and this album, from a few years ago, is their only full-length vinyl release to date. It's a beautiful record, one that shows a clear advancement in their sound. You can click HERE to see what Decoder Magazine had to say about the album or take a listen below to when Loud & Sad dropped by the KMSU studios to perform a live set.