Emerging from the Minnesota River Valley in the mid-aughties, Maths Balance Volumes were a revolving band of twenty-somethings that were infected with the free improv/free noise contagion that was then being transmitted across musty Midwestern basements and well beyond through a network of house shows and ultra limited tape and cd-r releases. MBV's own releases would find various sympathetic outlets, including international prime movers of junk noise like American Tapes and Chocolate Monk. They would also go on to self-release their sole LP artifact in "Lower Forms" that may go down as one of the more overlooked gems of this highly prolific era.
MBV have never formally disbanded, so the prospects of a return always remains a distant possibility; however, MBV's core duo of Clay Kolbinger and Jameson Sweiger remain active in their respective Midwestern hubs, hunkering down and recording new solo material that demonstrates a continued desire to push their highly personalized craft into new and uncharted territories. Round Bale Recordings is pleased to release the latest solo outings from both of these unique artists, marking the label's first foray into the tape medium.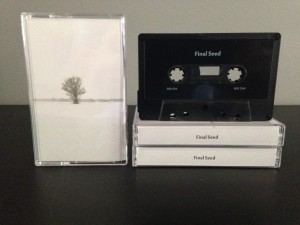 RBR-004: Final Seed – S/T tape $6
With previous cassettes out on Alien Passengers and Fag Tapes, along with a recent split with Dylan Nyoukis (Chocolate Monk, Blood Stereo, etc.), Jameson Sweiger's Final Seed project has been ramping-up activity in the past couple of years. His latest finds him pushing the levels of discomfort to new extremes with his zoned-out, minimal synth pulsations and ukulele plunks forming an aural gridlock for his broken tongue, epiglottal vocal utterances to break free from. Sweiger's work bears linkages to Phil Minton's feral oeuvre, yet it is firmly planted in the contemporary sound art here-and-now with his own crudely D.I.Y. minimalist approach.
*Email us about ordering a copy or purchase directly from our Bandcamp page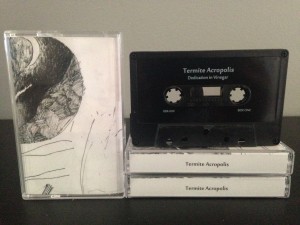 RBR-003: Termite Acropolis – Dedication in Vinegar tape $6
"Dedication in Vinegar" is the first solo release from Clay Kolbinger under the name Termite Acropolis. For tape-based music, there is a remarkable sense of clarity and depth to the five pieces spread across this release. Through a myriad of clanks and clatters, hidden and not-so-hidden rhythmic patterns emerge and morph, shifting one's focal point towards something buried even further in the mix only to find you chasing down that initial misidentified loop. In places it sounds like a punk-primitive take on the seething audio confusion that Rashad Becker concocted with his Traditional Music Of Notional Species Vol. I. But, hell, that's just reaching for an elusive reference point that slips away the moment you think you have a firm grasp on this material.
*Email us about ordering a copy or purchase directly from our Bandcamp page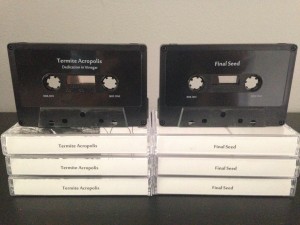 Termite Acropolis & Final Seed bundle set
*Email us directly about ordering both copies to save yourself and us a few dollars
Contact: roundbalerecs@gmail.com