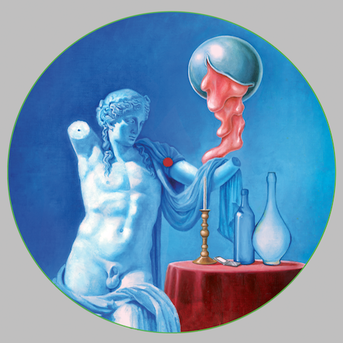 As far as the last few weeks of the Thursday show go, I could write about a few of the record store scores that I played or even some of the old cassette tapes that I dug out of an old drawer, but I can hardly bring myself to write about any of this because all that I want to do is just listen to this new Giant Claw album. We've played numerous Giant Claw releases on the weekly show and the podcast show over the past few years and they've all been great, but Dark Web marks a noticeably new direction, and a dizzyingly infectious one at that, for Keith Rankin, the talented artist behind Giant Claw. Here he's working in the vein of an avant producer, assembling these hyperkinetic, yet highly emotive, pop miniatures using sound samples lifted from across the contemporary micro-genre landscape. Honestly, this type of music isn't something I normally get overly enthusiastic about, but Rankin has a way of arranging these sounds in such a way that I find quite refreshing. You can (and should) pick up this album right now from Orange Milk or Noumenal Loom Records.
FFFreakout #430 (Aired on 9/25/14):
Thomas Jefferson Slave Apartments "Down To High Street" from Bait and Switch
Arthur Brown "Money" from The Crazy World of Arthur Brown
The Flying Lizards "Her Story" from S/T
Nurse With Wound "Juice Head Crazy Lady" from Huffin' Rag Blues
German Army "Stone Walls" from Jivaro Witnesses
Ty Segall "Side A (excerpt)" from San Francisco Rock Compilation or Food or Weird Beer From Microsoft
Agitation Free "Rücksturz" from Malesch
Savage Republic "On the Prowl" from Tragic Figures
Waylon Jennings "Only Daddy That'll Walk the Line" from Country Legends
The War On Drugs "Under the Pressure" from Lost In The Dream
Gary Young "Plant Man" from Hospital
Sonic Youth "Bull In the Heather" from Experimental Jet Set, Trash and No Star
The Stranglers "Peaches" from Rattus Norvegicus
Folk Implosion "Serge" from One Part Lullaby
Hot Butter "Popcorn" from Popcorn
FFFreakout #431 (Aired on 10/2/14):
Sonny Knight and His Fabulous Lakers "Get Up and Dance" from I'm Still Here
Iggy Pop "The Passenger" from Lust For Life
MGMT "Congratulations" from Congratulations
Elvis Costello "Shipbuilding" from Girls Girls Girls
The Budos Band "Chicago Falcon" from II
Flight of the Conchords "Bret, You Got It Going On" from Sub Pop compilation
Aretha Franklin "Baby I Love You" from Very Best of The 60's
The Chills "Heavenly Pop Hit" from Submarine Bells
Tall Dwarfs "Nothing's Going to Happen" from Hello Cruel World
Dog Faced Hermans "Blessed Are the Follies" from Those Deep Buds
Swell Maps "Full Moon In My Pocket" & "BLAM!" from A Trip to Marineville
Volcano Suns "Soft Hit" from Thing of Beauty
Shellac "The People's Microphone" from Dude Incredible
FFFreakout #432 (Aired on 10/9/14):
Giant Claw "Darkweb…002" from Dark Web
Jerry Paper "All Clowns (The Joke)" from Big Pop For Chameleon World
Awaken! "Rainbow" from Light Current
BBJr "(So) Over the Rainbow" from How To Fuck All Your Co-workers in One Sitting
Anne Briggs "The Time Has Come" from The Time Has Come
Swell Maps "Pets' Corner" from Wastrels and Whippersnappers
Bardo Pond "Wank" from Amanita
X "Under the Big Black Sun" from Under the Big Black Sun
Johnny Cash "Orange Blossom Special" from At Folsom Prison
Tom Petty & The Heartbreakers "Shadow People" from Hypnotic Eye
The Viscounts "Harlem Nocturne" from Saxy Rock
Blur "Badhead" from Parklife
Stevie Wonder "Fingertips Pt. 2" from The Definitive Collection
Rolling Stones "Stop Breaking Down" from Exile On Main St.
FFFreakout #433 (Aired on 10/16/14):
Air Miami "World Cup Fever" from Me Me Me
Russell Hoke "Someday Among Flowers" from The Magic of My Youth
Barton Brothers "Cockeyed Jenny" from Victrola Favorites
Little Howlin' Wolf "Baby Farina" from Little Howlin' Wolf 7″s, vol.1
Captain Beefheart & The Magic Band "The Buggy Boogie Woogie" from Lick My Decals Off, Baby
John Carpenter "Haunted House" from The Essential John Carpenter Film Music Collection
Dome "Cruel When Complete" from Dome 1
John Cage "Three Dances" (excerpt) from Three Dances & Four Organs
Giant Claw "Darkweb…001" from Dark Web
Duane Eddy "(Dance With the) Guitar Man" from Nipper's Greatest Hits
Yo La Tengo "No Return" from The Modern Genius of Ray Davies
The Jam " Going Underground" from Settings Sons
Hall & Oates "Family Man" from H2O
The Von Bondies "C'mon C'mon" from Pawn Shoppe Heart
Manu Dibango "Soul Makosa" from Soul Makossa
Marty Robbins "El Paso" from Gunfighter Ballads and Trail Songs
DeVotchKa "Charlottle Mittnacht (The Fabulous Destiny Of)" from How It Ends