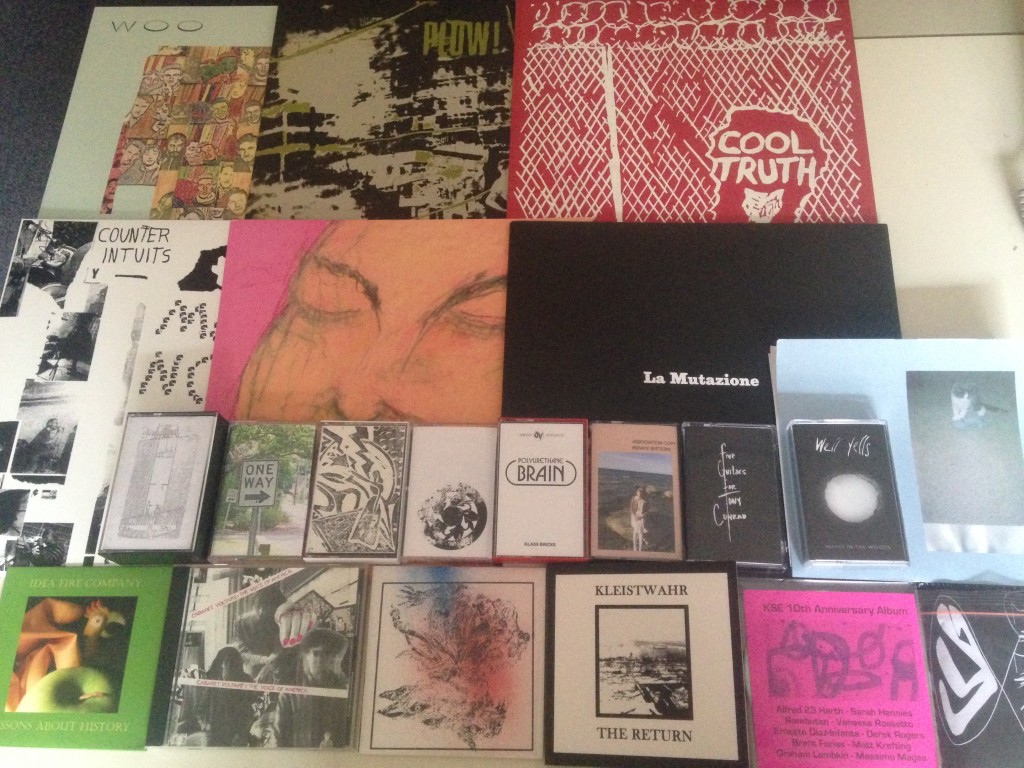 I'm still working my way through the piles of music that I've acquired over the past couple of months, so on this installment of the FFFoxy Podcast show you'll again hear plenty of newer releases and reissues, along with a couple of older tracks that I thought tied-in well with that material. Things start off with a string of top-shelf battered pop action this time around, but there are a fair amount of hypnotic, minimalist electronic sounds scattered throughout, too, something I've been spending quite a bit of time with since the last show. Of particular note in this latter area of sound exploration is the reissue of Giancarlo Toniutti's brilliant La Mutazione album and the previously unreleased archival recordings from Woo. The latest output from new-to-me acts Styrenhet, Akke Phallus Duo, and Glass Bricks are also equally as captivating. There's plenty more to sink your teeth into, so dive in and give this latest episode a listen. Before I sign off, I should also give a hearty shout out to Kendra Steiner Editions for their 10 years of doing great work! Here's to 10 more! Hope you enjoy this new episode. Feel free to get in touch if you have any questions or comments. Cheers!
Counter Intuits "Creative Juice" Monosyllabilly LP (Pyramid Scheme)
Drunk Elk "Swept Upon the Red Wine Sea" Constellations 2×7" (Black Petal)
Howling Gruel "Vladimir Investigates" Jolly Jape LP (Wormwood Grasshopper)
The Subtropics "Get Up and Go" Music For the Midwest 2CS (Unread)
Traditional Speech "The Sea & One House" Exercise of Group CS (Senri)
Idea Fire Company "Port Lligat" Lessons About History CD (Spinny's Disks)
Five Guitars for Tony Conrad (excerpt) CS (Auasca)
(Talk break)
Styrenhet "Utsikt över älva" Pilgrimsfärden CS (Vaald)
Well Yells "Sun In Your Eyes" Waves in the Woods CS (self-released)
Woo "Green Blob" Awaawaa LP (Palto Flats)
Christian Marclay "Pandora's Box" Plow! LP (Organik)
Little Howlin Wolf "Cool Truth" Cool Truth LP (Family Vineyard)
Jake Tobin "Stumbling Up the Staircase of Endearment / Current Events" Third and Fourth Thoughts CS (Truly Bald)
DuChamp "E tornammo a riveder le stele" (excerpt) Nectere CS (Full Body Massage)
(Talk break)
Wolf Eyes "Strange Girl" Strange Days CD-R (self-released)
Cabaret Voltaire "Premonition" The Voice of America CD (Mute)
Akke Phallus Duo "Opium Mixed With Brine" An Insatiable Demand For Tea (Devastation Wreaked By) CS* (Tanzprocesz)
Association Copy "Side A" (excerpt) Private Editions CS (Vitrine)
Kleistwahr "The Storm" The Return CD (Fourth Dimension)
Giancarlo Toniutti "Part A – The Tree" (excerpt) La Mutazione LP (Black Truffle)
(Talk break)
Graham Lambkin "Questioned By Force" KSE 10th Anniversary Album CD-R (Kendra Steiner Editions)
Glass Bricks "Voices I" Polyurethane Brain CS (Greedy Ventilator)
*Denotes digital promo copy provided directly from the artist or label.