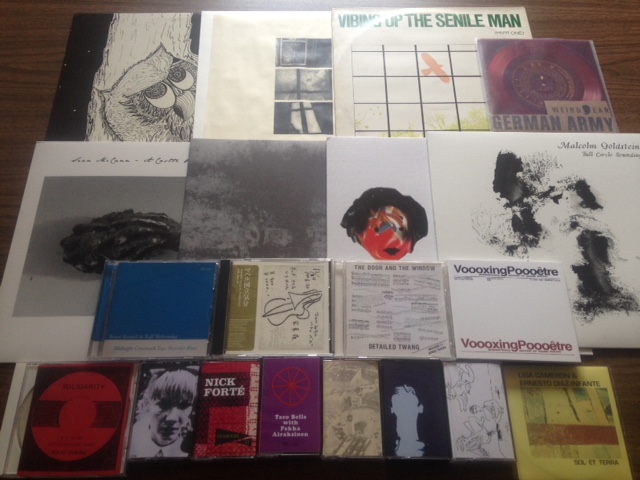 I know I say this probably far too often, but I was really excited to share this bunch of mostly new sounds with you on this installment of the FFFoxy Podcast. I guess when that excitement starts to wane, I know it'll be my time to walk away from all of this, but I don't see that happening any time soon. There is simply too much great material coming out right now to be enthusiastic about. As our friend and ally Bill Shute of Kendra Steiner Editions has recently written: "We are living in a Golden Age in all the arts, but especially in the world of Experimental Music." I think this episode gets to the heart of that with terrific new works from Sean McCann, Benjamin Finger, Pedestrian Deposit, German Army, Nick Forté, Lisa Cameron & Ernesto Diaz-Infante and on and on. I also tried to sprinkle in some older things that I've been playing around the house of late that are maybe tangentially connected to some of this newer material. Hopefully it'll make sense if you can make it through the early morning, under-caffeinated ramblings of your scatterbrained host. At any rate, I hope you enjoy this episode. Feel free to get in touch if you have any questions or comments.
Sean McCann "Belt-Laced Eyes" A Castle Popping LP (Recital)
Waterflower "Different" split w/ Bird People CS* (Liminal Noise)
Earthly "Ice Cream" Days LP (Noumenal Loom)
Benjamin Finger "Whirlbrainpoolin" Amorosa Sensitiva LP* (Blue Tapes & X-Ray Records)
Pedestrian Deposit "A Cold Harvest" (excerpt) The Architector LP (Monorail Trespassing)
(Talk break)
The Reds, Pinks, & Purples "Best Sides" A Fruits & Flowers Three-Way CS (Fruits & Flowers)
The Door & The Window "We Do Scare Each Other" Detailed Twang CD (Overground Records)
Alternative TV "Graves of Deluxe Green" Vibing Up the Senile Man LP (Deptford Fun City Records)
Silver Dick "Galleon" There's No Gold Anywhere CS (Self-released)
Macho Blush "Snakes Transform the City" Firma CS (Self-released)
German Army "Fragment Linen" Taushiro 2×7" Flexi Disc (Weird Ear)
Tolerance "Through the Glass  + Tecno Room" Anonym LP (Vanity/No Label)
(Talk break)
Maher Shalal Hash Baz "Unknown Happiness" Live 1984-85 CD (PSF)
Little Howlin' Wolf "Sunny Come Early" Singles Vol. 1 CD-R (Heresee)
Bruce Russell & Ralf Wehowsky "Kate's Blues #3" Midnight Crossroads Tape Recorder Blues CD (A Bruit Secret)
Nick Forté "Frozen Like Dolls" Overdoes It CS (Obsolete Units)
Rod Summers "Rat Sense" Vooooxing Poooêtre CD (Recital)
The Harlemans "Slow Walkin'" Poetry Out Loud Number Three LP (Out Loud Productions)
Malcolm Goldstein "Judson Piece #6" Full Circle Sounding LP (Kye)
(Talk break)
Charcoal Owls "Mark Stone Rising" The Coventry Campbell CS (Blank Editions)
Lisa Cameron & Ernesto Diaz Infante "Sun Psychic" Sol Et Terra CD-R (Kendra Steiner Editions)
Taco Bells with Pekka Airaksinen "Vesi" (excerpt) S/T CS (Astral Spirits)
*Correction: It was noted during the show that Vibing Up The Senile Man was at least partially recorded at Throbbing Gristle's practice space. While Alternative TV did practice and record some early sessions at TG's space, Vibing Up The Senile Man was, however, recorded at Pathway Sound Studios in Oct./Nov. of 1978. Genesis P-Orridge contributes percussion to three tracks on the album, though, including "Graves Of Deluxe Green".