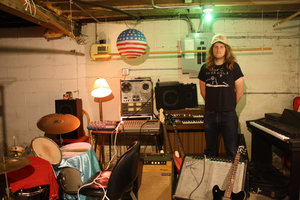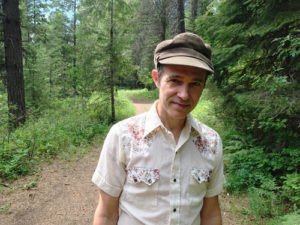 This installment of the podcast show started off with a track from David Nance's 2013 album called Actor's Diary that came out on Grapefruit Records as part of their subscription series from that year. Nance, whose music we've featured on previous shows, is a talented songwriter and guitarist out of Omaha, Nebraska, whose solo work taps into that rich and varied lineage of homespun, D.I.Y. rock 'n' roll. He just released a terrific new album called Do the Negative Boogie, his first proper studio effort, and while the sound is noticeably cleaner on some tracks, the album as a whole still retains that rough hewn charm of his previous recordings. David recently stopped by the KMSU studios before a show here in Mankato, and we discussed the making of his new album, and he hung out and picked out some music that he's interested in to play, too. You'll hear this in the first hour of the show.
In the second hour, I was fortunate to have fellow Omaha singer/songwriter and co-owner of Grapefruit Records, Simon Joyner, also join me in the studio recently while out on tour in anticipation of his forthcoming double album, Step Into the Earthquake. Joyner is a veteran and influential figure within the Omaha music scene, having released numerous albums, singles, cassettes, and other collaborative works dating back to the early 1990's. Joyner's writing on Step Into the Earthquake, though, is as timely and as incisive as ever. I discussed some of the inspirations behind the material on this new album with Simon, and we previewed some of the key tracks from the album. We also chatted a bit about his work running Grapefruit Records, too, and play a few things from the label's catalog.
This show was a true pleasure to put together, so I hope you enjoy this one. David and Simon are out on tour together right now; get out and see them if you can. The upcoming tour dates are listed below. Feel free to get in touch if you have any questions or comments. As always, thanks for looking and listening.
David Kenneth Nance | "Glittering Lies" | Actor's Diary | (Grapefruit)
*Introduction
David Nance | "Negative Boogie" | Do the Negative Boogie | (Ba Da Bing)
*Interview segment with David Nance
David Nance | "Trianglehead" | Do the Negative Boogie | (Ba Da Bing)
*Interview segment with David Nance
Red Lorry Yellow Lorry | "Chance" | b/w "Generation" | (Red Rhino Records)
Girls On Fire | "Sick Of Don'ts" | In My Blood | (self-released)
Raincoats | "No Looking" | S/T  | (Rough Trade)
Scorched Earth Policy | "Sunset on the Loading Zone" | Going Thru' A Hole in the Back of Your Head | (Siltbreeze)
*Interview segment with David Nance
Albert Ayler | "Untitled Duet" (w/ Henry Vestine) | The Last Album | (Impulse!)
Motörhead | "Iron Horse / Born To Lose" | S/T  | (Chiswick)
Minutemen | "Cut" | Buzz or Howl Under the Influence of Heat | (SST)
*Interview segment with David Nance
Simon Joyner & David Nance | "Silver Train" | Goat's Head Soup | (Grapefruit)
Simon Joyner | "Hail Mary" | Step Into the Earthquake | (Ba Da Bing)
*Interview segment with Simon Joyner & The Ghosts
Simon Joyner | "I'm Feeling It Today" | Step Into the Earthquake | (Ba Da Bing)
*Interview segment with Simon Joyner & The Ghosts
Roy Montgomery | "You Always Get What You Deserve" | RMHQ: Headquarters | (Grapefruit)
Renderizors | "Timeless" | Vivid Cloud/Lucky Din | (Grapefruit)
*Interview segment with Simon Joyner & The Ghosts
Noah Sterba | "Dead Hero Blues" | 13 Bar Blues | (Grapefruit)
*Interview segment with Simon Joyner & The Ghosts
Simon Joyner | "I Dreamed I Saw Lou Reed Last Night" | Step Into the Earthquake | (Ba Da Bing)
Tour Dates:
Aug 26th: Sumner, ME Village Music Festival (w/The David Nance Group, and more)
https://www.facebook.com/events/206493483138989/
Aug 27th: Salem, MA
At: KOTO (w/ Gene Dante, Four Point Restraints, The David Nance Group)
https://www.facebook.com/events/1524096914291439/
Aug 28th: Cambridge, MA
At: The Middle East (with Damon & Naomi, The David Nance Group)
https://www.facebook.com/events/1151418068335953/
Aug 29th: NYC (w/Anna McClellan, The David Nance Group)
At: The Glove
https://www.facebook.com/events/1647498151950151/
Aug 30th: Philadelphia, PA (w/ The David Nance Group)
At: Kung Fu Necktie
https://www.facebook.com/events/141358943115804/
Aug 31st: Chapel Hill (house show and BBQ)
(w/The David Nance Group)
At: Casa Anya
https://www.facebook.com/events/468235036883448/
Sept 1st: Atlanta, GA (w/The David Nance Group)
At: 529 Club
https://www.facebook.com/events/1291532574306567/
Sept 2nd: Nashville, TN
At: Fond Object Records (w/Jesus Vio & the Yaillos, The David Nance Group)
https://www.facebook.com/events/1934470640166059
Sept 3rd: Columbia, MO (w/The David Nance Group)
At: Cafe Berlin
https://www.facebook.com/events/1428739620554266
Sept 4th: Omaha, NE (w/The David Nance Group)
At: Pageturner's Lounge