Here's the second in the series of FFF year-end pieces. This time around I combed through the hundreds of tapes that arrived this year, either through direct purchases or through artist/label submissions, and pulled together a small overview of the things that really stood out. As I noted with the previous reissue/archival list, I could've easily expanded this to ridiculous lengths, but I settled on a modest fifteen titles for the sake of my own (and perhaps your) well-being at this time of year. There are plenty of other artists and labels that I think are doing amazing work, and for that I'd encourage you to peruse the podcast playlists from this year to get a sense of what else grabbed my attention. The following blurbs, though, were written in fits-and-starts during any spare moments over the past week, so all comma splices and clunky word choices I'll own. Please be sure to follow the links provided to find out more information for each of these releases. Thanks for checking in with us and hope you all have a Happy New Year.
David P.
N. Mankato, Dec. 2015
————————————————————————————————————————————————

Amalgamated – Solvé et Coagula (Aubjects)
This tape comes in an oversized Norelco case and contains a fetching b&w art zine filled with naturalistic and geometric images making it one of the best packaged cassette releases I got my hands on this year. Musically, Amalgamated, a long-running Midwest quartet dealing in abstract sound design, edited together hours of recordings from a decade-prior to form a dark, scathing, and textural rich tapestry of analog and digital sounds. There is less in the way of any outward beats, as heard on many of their previous offerings, but the sounds ebb-and-flow in a natural forward motion, at times pushing towards complete washed-out power electronics overload without the toe-curling, high-pitched frequencies.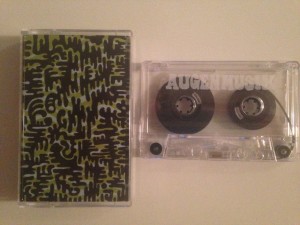 Augenmusik – Self-titled (Eiderdown)
This self-titled release features stunning and completely time-erasing improvisations from the trio of Samara Lubelski on amplified violin and effects, Thilo Kuhn on Thylotronics (wtf??), and Werner Nötzel on tapes and modulations. There are moments on here that recall the bubble and blurp of early electronic innovators, but the droning and scraping tones of Lubelski's violin shot through the various effects elevates these individual "Phases" into something even more alien and indescribable – a bit like Eastern European folk music re-imagined on the Forbidden Planet.
Charcoal Owls – The Coventry Campbell (Blank Editions)
To be up-front, I count myself a fan of Russell Walker's output going back to The Pheromoans and through the various solo and offshoot projects like the Bomber Jackets and The Teleporters. His contribution to the Kye compilation Nice Weather For War was a clear standout track for me, and I'm still spinning his duo album with Dan Melchior (don't get me started on that guy's output) called In Durham regularly. This release as Charcoal Owls, his project with Tom James Scott (of Skire Records), was a bit of a surprise; The Coventry Campbell features honest-to-goodness jaunty pop songs and piano weepers. Not at all a bad thing either, just unlike much of what came before. That's not to suggest that everything is on the straight-and-narrow here, though. A few of these songs are set to a backdrop of field recordings that capture a certain sense of place – perhaps a nod to the Coventry Campbell pub that this release was reportedly an ode to – and the tape ends with a terrific bit of Walker storytelling. Regardless, this set of songs/stories were strangely moving and this tape spent a considerable amount of time in the deck.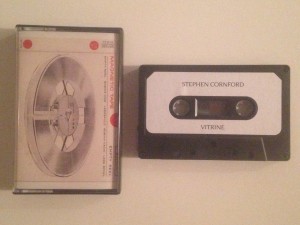 Stephen Cornford – Empty Reels (Vitrine)
"Very close stereo recordings of empty tape reels rotating slowly on a Grundig TK5 machine." The concept and execution are as simple as that, yet the resulting four pieces that make up Empty Reels are as captivating as any grand multi-part musical gesture in my humble opinion. Through no post-production or effects on Cornford's part, he was able to capture the hidden rhythms and resonances lurking within these plastic and aluminum materials. This is sound art with a (mechanized) heart to it and another fine example of Vitrine's singular, and might I add impeccable, curatorial vision in the realm of uncommon sound in 2015. One of those rare labels that is worth following each and every release from.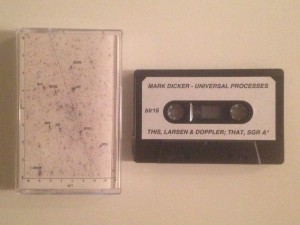 Mark Dicker – Universal Processes (Bunkland)
Dicker expertly layers varying electronic sound sources over the three pieces contained on Universal Processes, from laser blasted synth blurts to growling bottom end bass tones to shimmering crystalline textures. Within this range of sounds, Dicker places little cryptic effects-laden spoken word fragments throughout to create a narrative feel that binds all of the tracks together. The guy has a knack for tension-building and unsettling release.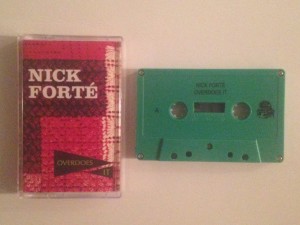 Nick Forte – Overdoes It (Obsolete Units)
When not playing in the blistering punk outfit, Raspberry Bulbs, Forté stays busy making bewildering experimental electronic soundscapes and other tape-based sound-fuckery. Overdoes It is a collection of his tape experiments that span the years 2009-2014. While this may imply a certain hodge-podge of ideas and techniques, that couldn't be further from the truth: the individual tracks on Overdoes It spill into each other with remarkable consistency and clarity, making for a cohesive release that provides a nice companion to his Primordial Forms LP that also came out this year.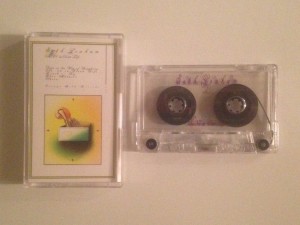 Seth Graham – No. 00 in Clean Life (Orange Milk)
Throughout all of Graham's solo work (and duo work in Cream Juice), he has developed a unique way of piling on layers of sounds in a hyper, jump-cut fashion, adding little snatches of voice and instrumentation that dart in-and-out, while teasing out these sputtering rhythms and melodies from it all. The same holds true on No. 00 in Clean Life, but part of its strength lies in the spaces provided between these sounds, allowing for each vocal and string grab to simmer a little longer and take hold, making it Graham's strongest solo effort to date.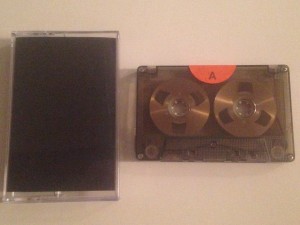 Ignatz – I Live in a Utopia (Goaty Tapes)
There has always been a slightly aggressive edge to Ignatz's brand of lo-fi, loner folk. On this latest release, with track titles like "I Have Found True Love" and "Bright Future", there is a slight air of optimism in tone and ease in playing throughout. Make no mistake, though, this is Ignatz music, so expect more late night, fractured modern blues.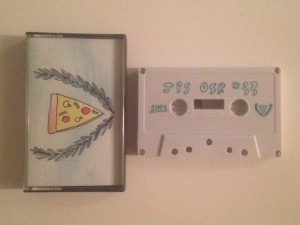 Joey Pizza Slice – OSR #33 (OSR Tapes)
This tape came out shortly after OSR went offline in 2015, so I'm hoping that maybe a few more people will discover its undeniable charms when the label re-establishes their online presence in the year ahead. Mr. Pizza Slice (a.k.a. Son of Salami, etc.) – here working in slightly higher fidelity than his Eraser Headless days – knows how to pen quirky yet highly catchy pop songs, this time with more prominent guitar parts, adding a bit more fuzz and chime to his concise keyboard compositions.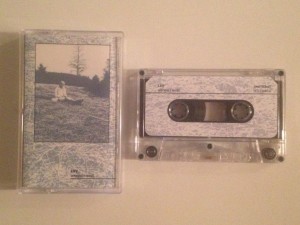 LXV – Witness/Recall (Monorail Trespassing)
This was easily one my most listened-to releases of the year. David Sutton, when working under the name LXV, has a way of merging wide-reaching sonic ideas that draw from submerged dancefloor aesthetics to more abstract electroacoustic strategies, forming an immersive listening experience that encourages repeated plays to decipher all of the hidden layers working together.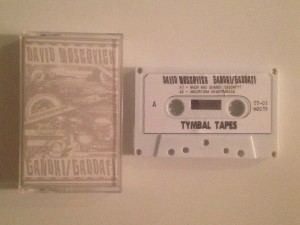 David Moscovich – Gandhi/Gaddafi (Tymbal Tapes)
This first release from the upstart Lincoln, Nebraska label, Tymbal Tapes, arrived at a perfect time when I was plunging deep into the Revue OU sound poetry material. This tape from writer David Moscovich, recorded live using only voice and electronics, sits comfortably within that area of audio/poetic shenanigans. Gandhi/Gaddafi is a hallucinatory ride with Moscovich sounding like a crazed Southern auctioneer talking faster than words can be formed in some places and like a scatter-brained professor making cut-up pronouncements to his class in others: "Great for sleeping, studying, drowning". Also worth noting is that Tymbal Tapes has some of the coolest artwork and design in the whole tape game right now courtesy of Tiny Little Hammers. That's a mighty fine cardstock they use.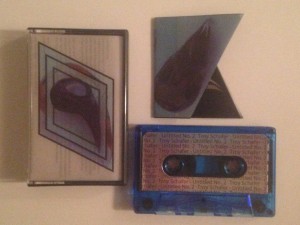 Troy Schafer – Untitled No. 2 (Black Horizons)
By now, it's probably fairly clear to most folks that visit this website even semi-regularly that I have strong appreciation for the solo work of Troy Schafer. His on-going Untitled series has been particularly fascinating to follow, and it is a pleasure to be able to put out the most recent installment of this on Round Bale (FFF's in-house label). Untitled No. 2, though, is by far the most blackened and abrasive offering yet, with Schafer's vocal screams cropping up out of an almost power electronics-like swarm of sound. In places, this falls into the harsher end of things that I honestly don't always enjoy, but Schafer's approach to composition and his editing choices set this miles apart from most other music/noise that is pegged as being "harsh".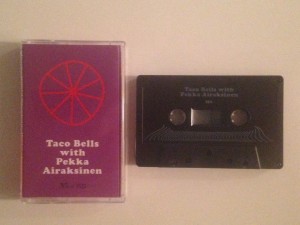 Taco Bells with Pekka Airaksinen – Self-titled (Astral Spirits)
The continued growth of Astral Spirits, a label focused on contemporary free jazz and other improvised sounds, was one of the more encouraging developments in the whole cassette underground this year. Not to get all hung up in the whole format debate – my views are fairly promiscuous on the topic really – but the cassette seems like an ideal way to get this generally marginalized music out into the world and to offer it to a new audience that might not otherwise approach it if presented through other channels and formats. So, props to Astral Spirits for the fine work that they are doing. Regarding the music, here you have the sax, double bass, and drums trio of Taco Bells, a group of veteran Finnish improvisers, joining up with the legendary Airaksinen (of Sperm) on keyboards for a live outing that explores sparkling melodic passages and full-throttle group lift-off. A lively and impassioned set to say the least.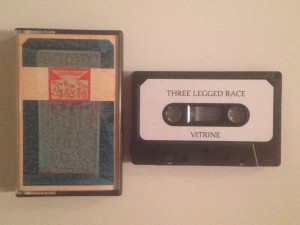 Three Legged Race – Rope Commercial Vol. 2 (Vitrine)
This is a tape that arrived very early in the year and one that stayed close to the stereo throughout it. Robert Beatty, formerly of the noise outfit Hair Police, may be best known for his graphic design work that has graced many a fine album jacket over the past few years. As this concise release highlights, though, he is equally adept at composing high quality electronic sound environments that develop according to their own hypnotic burbling inner logic.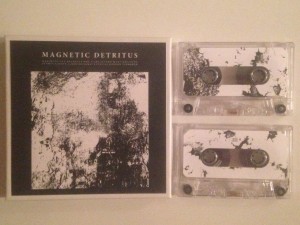 V/A – Magnetic Detritus (Imminent Frequencies)
I'm still a fan of a cohesive, well-considered compilation release and Magnetic Detritus proved to be the run away favorite of the year for me (though Alien Passenger's Milk of the Seer Beast would come in at a close second). This double cassette compilation features eight of the best artists working in tape-based music right now, including Darksmith, Matt Krefting, Aaron Dilloway, and Gordon Ashworth. Imminent Frequencies made excellent use of the cassette format in pairing up artist's work and in allowing for longer pieces to spread out across each side.